DIN EN ISO 9001 certified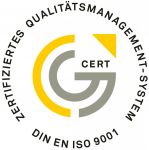 Focus: Semen collection and processing
At all its sites, GFS works according to precise specifications for semen production and boar husbandry, and observes hygiene measures to ensure animal health.
These are detailed in the GFS Quality Management System.
Systematic procedures and associated quality records are regularly reviewed by GFS vets and annual quality audits are conducted by the company GG Cert.
Other key points: Testing programmes, quarantine, ordering and logistics